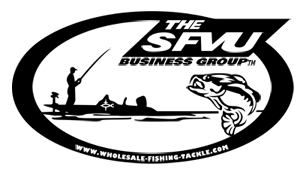 DEALERS
Register as Dealer for Ordering Access
FISHING GUIDES
Order your Wholesale Fishing Tackle here
PRODUCT MARKETING
Do you need representation at the local dealer level
Leaders in Wholesale Fishing Tackle Distribution
SFVU is a specialist in supplying fishing tackle, freshwater and saltwater, to the world's independently owned and operated retail dealer.

Mobile Phone / Tablet / Desktop
User Friendly Ordering
Available 24/7/365
Order Availability for Every SKU
in Every Model, Color & Size
for Every Factory Line
UPC Scanned Pick-Pack-Ship
to Guarantee Order Processing
Accuracy & Speed
We Ship Worldwide
52 Weeks a Year
with a 24-48 Business Hour Turnaround
Guaranteed Lowest
Wholesale Pricing*
Fair Market Cost Shipping
Order Any Quantity by Eaches
No Upcharge or Minimums on Orders
No Case Lot Requirements
Priority Drop Ship Options Available
for Your Customers on Vacation
or at a Tournament Location
Inventory Buy Back Program
We Trade Out / Straight Purchase
Your Non-Moving SKUs*
Programs for Jobbers, Outfitters
Professional Fishing Guides,
Seasonal Camps & Pay Lakes
as well as E-Commerce Only Retailers
Support Tools for Dealers
Complete Resource Center
thru your Dedicated Backend Office
Integrated Web Store
Option to have an Online Retail Dealership built for you
We Hire Dedicated Local Reps
in your Immediate Area just to
Support your Specific Store
BECOME PART of the SFVU DEALER FAMILY
We can supply your retail store with a complete range of fishing tackle, from top brands like Strike King, Gary Yamamoto, Live Target Lures, etc….
Guaranteed Lowest Pricing
24-48 Business Hour Shipping Turnaround
Every SKU, Model, Color or Size Available in Eaches Quantities
From the CEO's Desk
I'm proud of the fact that w
ith over 40 years of proven history as a leader in the sport fishing industry as well as a successful background in business consulting & development with independent retailers like you, I can confidently say the entire SFVU team offers a unique tool set not found anywhere else, that brings extra value and success to the building of YOUR fishing tackle store!
– Ian Godwin
Why Order from SFVU?
I built the Wholesale Fishing Tackle division with the belief that Independent Retailers like you should have the same opportunities, support and pricing as the "Big Box" stores get. Working with the SFVU team, you now have that! – Ian Godwin