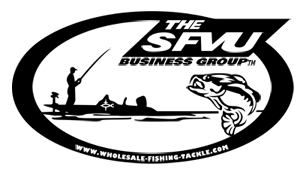 DEALERS
Register as Dealer for Ordering Access
FISHING GUIDES
Order your Wholesale Fishing Tackle here
PRODUCT MARKETING
Do you need representation at the local dealer level
Leaders in Wholesale Fishing Tackle Distribution
A one stop shop to get best Bass Fishing Tackles for the Independent Dealer. Our Focus is to make every Lure, every color and size available to you at BEST price and FASTED Delivery.

A Tradition crafted in Excellence
40 years in Fishing Tackle Industry
The SFVU BUSINESS Group is committed to bring only THE BEST of Products, Brands and then making them accessible to Small to Medium Dealers and Store Owners. We have bought exclusive factories to make Lures of every size, color and brand available to you !
Call us at (815) 555-5555
A Little Facts and Figures about our Company to give a Jist of our Organisation
100+
A Robust and Strong Team of 100+ Skilled Fishing Tackle Experts
20
Over 20 Exclusive Brands and Factories of Lures
45 Years
45 Years in the Business spread accros various domains in Fishing Industry
20 Million
20 Million Annual Turnover.
from the CEO's Desk
With over 40 years of experience as leaders in Fishing Tackle Industry, we're committed to creating extra value for you and your business.
– Ian Godwin
Why us ?
Now, you can get complete access to top Brands. Compete with big retailers. Save money. Decrease risk. At SFVU.com, your business always comes first!
– Ian Godwin